View All Questions
Ask a New Question

Main Question - Posted From Guest:
i keep going on itunes but i dont see where to go to delete the blues song from my apple ipod
Reply From Removing songs:
It doesn't matter if its a blues song or any other type of song, deleting it is the same process. Read the post on removing songs from Ipod at : http://www.justtext.com/messageboards/20060416065855.html
Reply From Guest:
Press the delete key on your keyboard after highlighting the song. Make sure the "owners" option for ipod is selected on the left, showing your songs on the right, highlight and delete key.
Reply From Guest:
Heh blues music is good stuff! Why are you removing tunes like that? ;-)
Reply From Guest:
i cant find a ipod tab. i see general,podcast,parental,etc. but no ipod. where is it at maybe i am just overlooking
Reply From Guest:
Ipod shows on the left, there is no tab. Make sure you connect the ipod first as it takes a minute or so to appear.
Reply From Jeff:
See image below. The Owner will display when the Ipod is connected, so when you highlight Owner, you are now looking at your Ipod music and not that which is on the computer. Now highlight any song and press the delete key, or right click and click delete with the mouse. Note that you must have the manual option selected to pick and choose songs and to delete them, so change your ITunes settings to manual first before connecting the Ipod.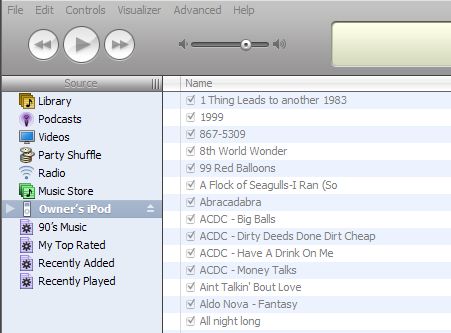 To put your Ipod into the manual setting, it is under Edit-Preferences and it is shown below. You can always change it back also if you want, this just means you will manually pick and choose rather then the automatic sync everything option.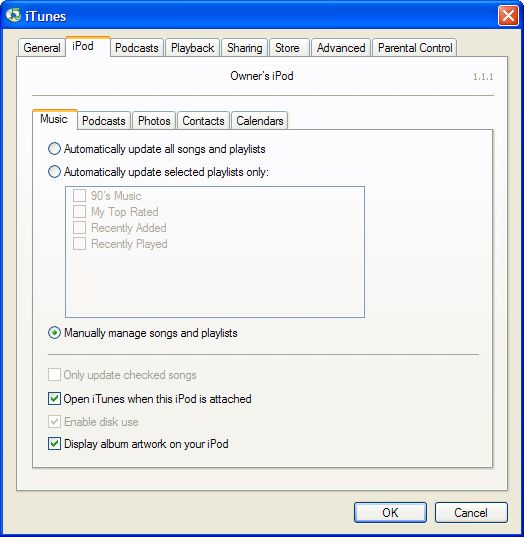 Reply From Jeff:
Be aware that if you do not choose the manual ipod option, then when you highlight "owners ipod", the songs will be greyed out and you cannot choose them. I think manual is just better because I like to control it myself on what I add or delete rather then the auto sync, but everyone likes different things :)

Add your reply below ...