View All Questions
Ask a New Question

Main Question - Posted From none:
Anyone know how to remove songs once I have copied them on to the Ipod? I just want to remove a few of them. Thanks.
Reply From greg:
Here is how i do it...... I just connect the ipod and I always have itunes set to the manual option (not sure if that matters or not but that is how I have mine set, since I like to control it not have everything popping open automatically), then when I get my ipod list showing I just highlight whatever songs I want to remove and press the delete key on the keyboard. It works pretty slick, you can also highlight the whole list and wipe it out and then reload the ipod from scratch, or you can choose individual songs to remove also if you want. Hold the ctrl key down to click more then one song to delete at a time.
Reply From none:
Any idea if this is the same process for a mini ipod?, or is the nano different?
Reply From greg:
I believe all ipods work the same, I haven\'t tried this on the mini but it works with any nano type so I would assume the mini and shuffle is the same too.
Reply From Anon:
Deleting songs on an Ipod nano is something they should have made clearer. I often find myself going back and deleting bad versions of songs so I can replace them with new versions, or just deleting songs on the nano that I don't want on there anymore. Its not easy to find information on deleting, ITunes is easy but the song delete surely isn't easy to figure out.
Reply From hi:
gay
Reply From rico:
so i go to my library and my list but i still cant highhlight anything...i dont know it just wont let me highlight...the list is dull and i cannot click on songs i want to delete i think osmething is wrong
Reply From sara:
ive deleted them off of my computer but they are still one my ipod
Reply From Jeff:
Rico, are your songs you added to your list mp3 or aac? They need to be one of those 2 formats, then you can just click it with your mouose and it will highlight, then drag to your ipod. If you are deleting then just highlight them on your list (make sure ipod is selected on the left) and press your delete key. Its pretty straight forward.
Reply From Jeff:
Sara, if you want to delete them from the ipod, see the message above.
Reply From hi:
greg's works
Reply From ??????:
can sum1 elp mi plz ... iv gor an ipod nano n it workz of itunes but ive added the rong songs to it n i dont know how to delete them because at the side where it says my ipod when i click onto it all my songs come up but i cant click onto them to delete them?? please help me??
Reply From Rachel:
I am following the instructions posted above and when I hit the delete button nothng happens..can you help me?
Reply From guest:
Heh Rachel, make sure you have "Ipod" chosen on the left, so you know you are looking at your ipod files, then highlight any song in your list on the right, then press the delete key, the song will be deleted.
Reply From Follow the top response:
If you follow the first response from Greg, this definitely works, I have tried it and since done multiple times, it deletes everytime without a problem.
Reply From alex:
how do you delete songs off an ipod nano
Reply From alex:
anon how do you do it
Reply From alex:
i did that but it only deleted it off the computer
Reply From none:
You have to go to your iPod songs list and select the songs you want to delete. If you simply go to your music library that only deletes it off your computer. GO TO YOUR iPOD MUSIC LIST!
Reply From shaun:
if you do the restore factory settings will it clear all of the music off of your ipod?
Reply From anonymous4:
How do you set it to manual mode???
Reply From Alex:
my itunes says it is full but i have only two songs on it how can i fix that?
Reply From Jeff:
See image below. The Owner will display when the Ipod is connected, so when you highlight Owner, you are now looking at your Ipod music and not that which is on the computer. Now highlight any song and press the delete key, or right click and click delete with the mouse. Note that you must have the manual option selected to pick and choose songs and to delete them, so change your ITunes settings to manual first before connecting the Ipod.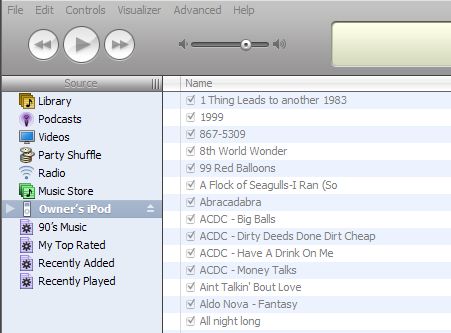 To put your Ipod into the manual setting, it is under Edit-Preferences and it is shown below. You can always change it back also if you want, this just means you will manually pick and choose rather then the automatic sync everything option.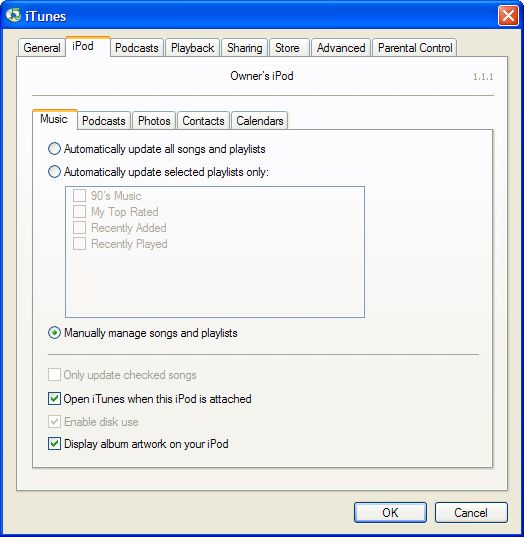 Reply From Jeff:
Anonymous4 - see itunes windows above. Alex - You have more then 2 songs if it says full, go through your playlists on your ipod, you may have lists within lists full of songs is my guess. Unless of course, each one of your songs is 2 gigs each :-) (j/k).
Reply From Guest:
sweet! that works, thanks.
Reply From Jeff:
Shaun, yes restore will wipe your entire ipod memory, including all your songs.
Reply From Jeff:
Anyone who doesn't have an IPOD tab as shown above, go to this link: delete ipod songs. This means you are running a later version of ITunes and this explains how to delete from the ipod for those with the newer software.
Reply From ..:
To find the manually manage music option if you want to manually delete songs, the new itunes is much easier. Install the latest itunes if you dont have it, then look for the setting as shown below to manually manage music.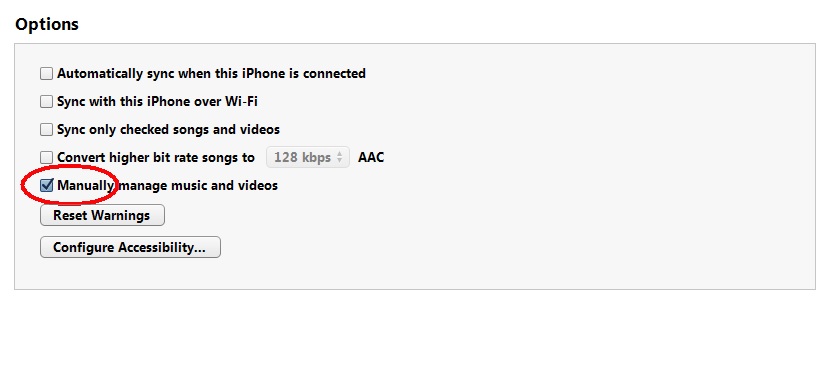 Add your reply below ...